3D Mock-Up Magic Displays Set
The Mock-up Set contains 5 mock ups and additional 8+ Backgrounds, 5 Placeholder Templates (Mock-Up 1 and 2), Browser UI (Mock-Up 3-5), changeable Display Logo.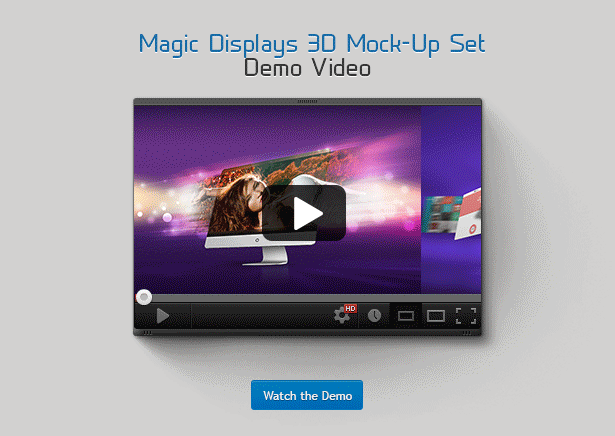 MOVE – Mock Up 1
Suitable for one or more images (incl. 1 image placeholder template) on one layer with impressive movement- and light-effects.
SLIDE – Mock Up 2
Let your images or screenshots slide over the display. On the foremost layer the images can be placed either by using the 4 placeholder templates or with own variations. On the underneath layer can be placed for example screenshots or any background images.
FLY – Mock Up 3
Let 4 images or screenshots fly over the display with motion blur.
LEAN – Mock Up 4
3 images or screenshots lean against the display.
FOLD – Mock Up 5
Unfold a banner with 6 screenshots or images.
Features
5 different 3D mock-ups
Easy to use via Smart Objects
Mock up size 4000×2000 px
Screen size 4000×1080 px (Mock-Up 1-2)
Screen size 1920×1020 px (Mock-Up 3-5)
3D shadow simulation via Global Light
Incl. editable Browser UI in every panel
Editable display logo via Smart Object
Editable backgrounds, 8 presets and many more possibilities
All layers are editable afterwards
Package
5 Mock Up PSD files
Instructions PDF