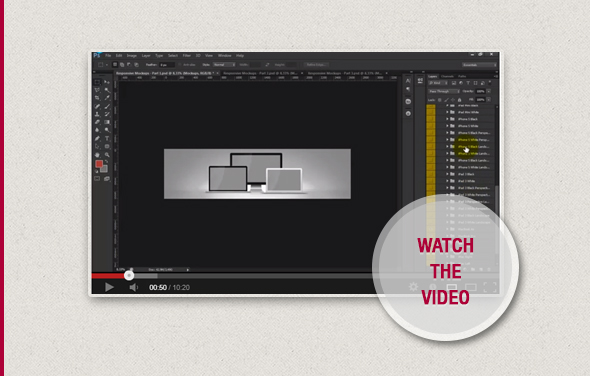 UPDATED: Added 4 New iMac Mockups
90 Responsive & Retina Ready Screen Mockups
90 Responsive & Retina Ready Screen Mockups are modern and professional device mockups ideal for presenting your responsive websites, application design or photos.
You can use one of the 89 premade templates or create your own with All in One Mockup. The file includes 9 different devices in black & white and different perspectives. All 90 mockups are editable via 10 Smart Objects and take second to edit them. You can choose between 12 unique background to present your mockup in a professional way.
File Contains
4 Very Ordered .PSD files with 90 Mockups
PDF Tutorial on how to use the file
Specifications
10 Smart Objects
90 Mockups
Total of 43 Devices
Responsive and Retina Ready
High Resolution (7500px x 2000px)
12 Unique Backgrounds
Video and PDF Tutorial
Easy to Use
Done in Seconds
Included Devices
iPhone 5 (6 perspectives, black & white)
iPad 3 (4 perspectives, black & white)
iPad Mini (4 perspectives, black & white)
Macbook Pro (4 perspectives)
Macbook Air
iMac (3 perspectives)
New iMac (4 perspectives)
Display
Phone S3
Web Browser
Mouse (2 perspectives)
Screenshots Resolutions
iPhone 5 (1136px x 640px and 640px x 1136px) – RETINA
iPad 3 (2048px x 1536px and 1536px x 2048px) – RETINA
iPad Mini (1024px x 768px and 768px x 1024px)
Macbook Pro (2880px × 1800px) – RETINA
Macbook Air (1440px x 900px)
iMac (2560px x 1440px)
Display (2560px x 1440px)
Web Browser (2560px x 1440px)
Phone S3 (1280px x 720px)
Screenshots in the preview image belong to Ole Kristian Svendsen.
Don't forget to rate!