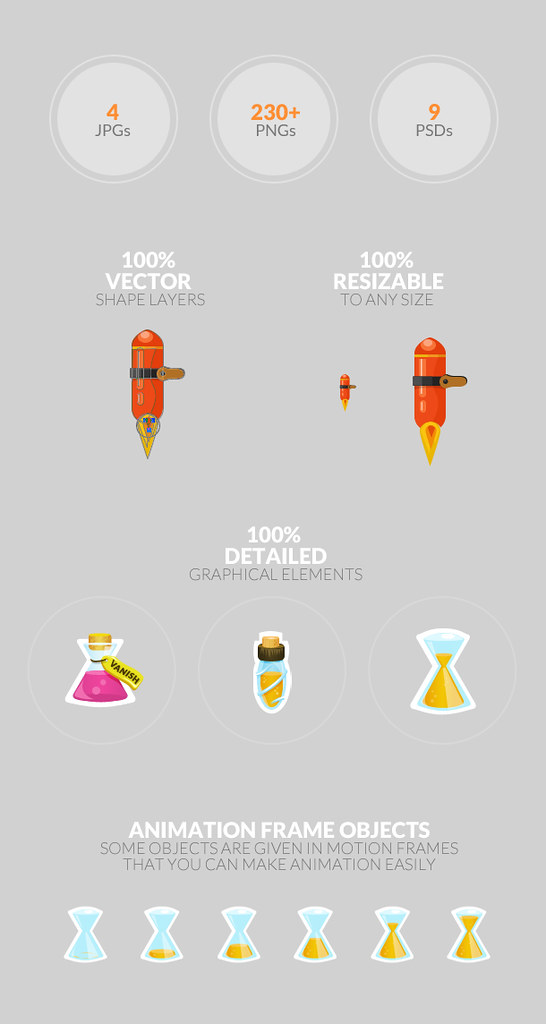 A set of vector game asset / graphic / sprite sheet / character art design / Game UI / Backgrounds / Tileset & Obstacles used for creating Bamboo Climbing or platformer games. Panda is the main character in this game.
Suitable for platformer games with medieval, adventure, fantasy, rpg and other similar theme. Player, Enemy, Fire & Other Sprite Sheet. Jump, hurt, walk,idle and die Sprite sheet.
Full vector, so you can scale it at any size, without losing it's quality. Also fully customizable.
File included: Photoshop PSD, GIF and PNG.
Game User Interface
Complete UI set for the Game. Icons, Buttons, loading bar, progress bar, scroll, level complete, level, stars, coins, etc. All are in high quality and detailed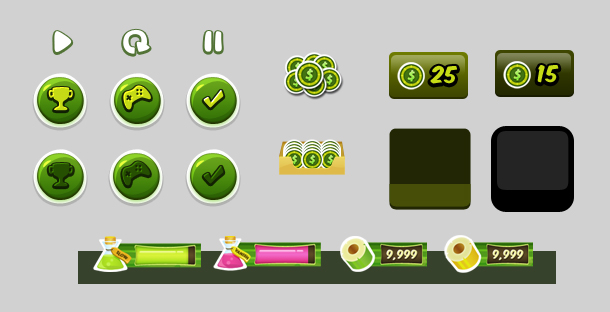 Collecting elements
High detailed Collecting elements set. All are vector and 100% resizable. life, extra life, coin, sands, bamboo piece, mighty bamboo, slow down potion, invisible potoin, etc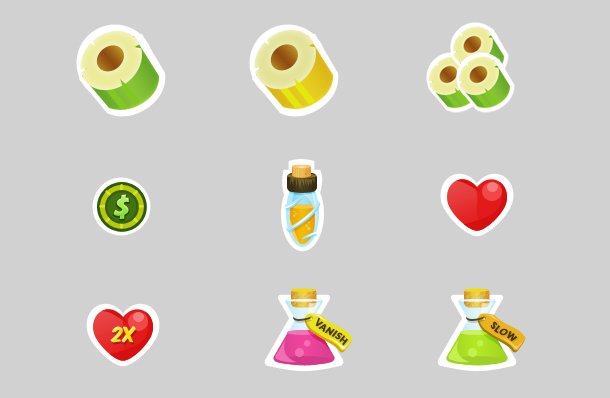 Obstacles & Supporting Elements
Here given some obstacles elements and supporting elements. All are resizable and editable. Obstacles given are Arrows, axe, ninja star, etc. Supporting elements like- rocket, various caps, etc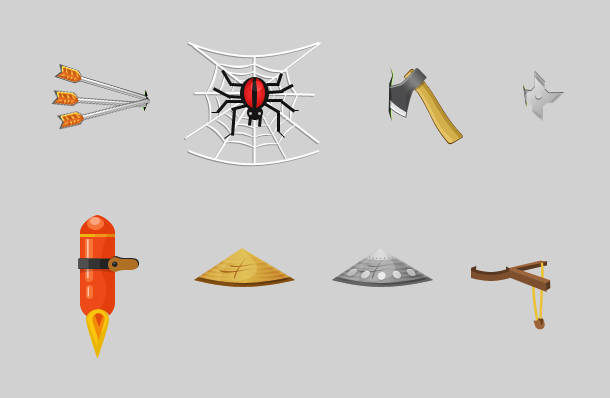 Menu Designs
There are various important interface or menu design given. All are editable and customizable. Level complete, level selector, shops, stage name, option, etc.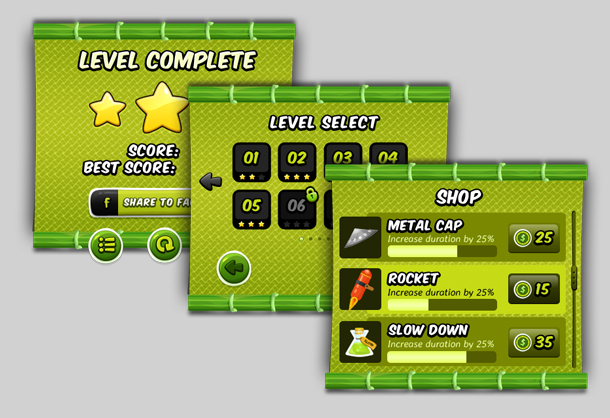 Bamboo Tileset
40+ different bamboo tiles given. 100% vector shape and customizable. All bamboo tiles are given in every direction needed.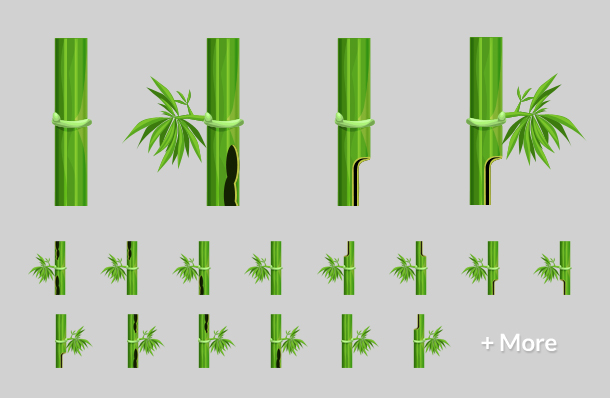 Various Counting Bars
Different types of counting bars are given. Coin counter, life counter, bamboo pieces counter, etc. potion counter are given in two mode active and inactive.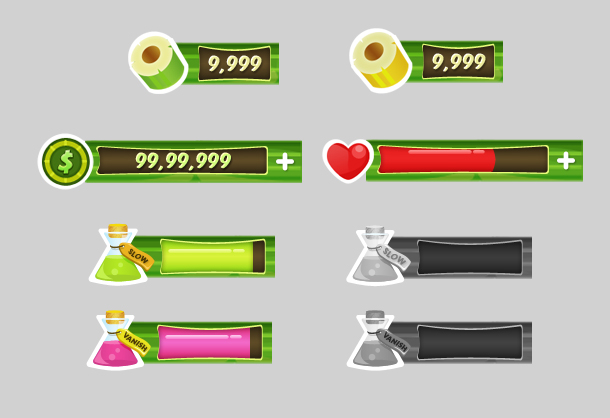 Panda Sprite Sheets
All movement types of Panda are given in step by step PNGs. You can create animation easily. Climb, jump, hurt, die, slide, etc.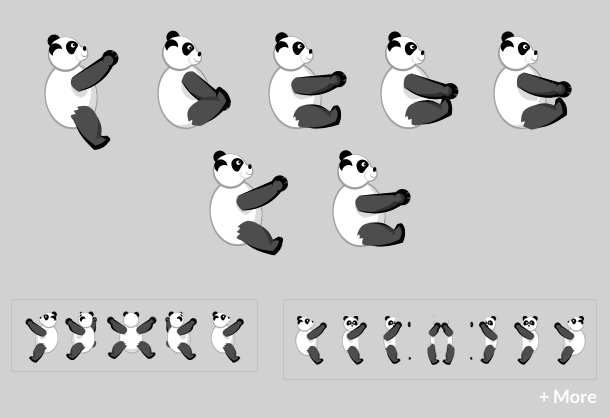 Backgrounds
Two types of Backgrounds are given. In each type there is a base background and a tillable background. All are editable and made by 100% vector shapes. So they are resizable to any size. PSD and JPG files are given for the backgrounds.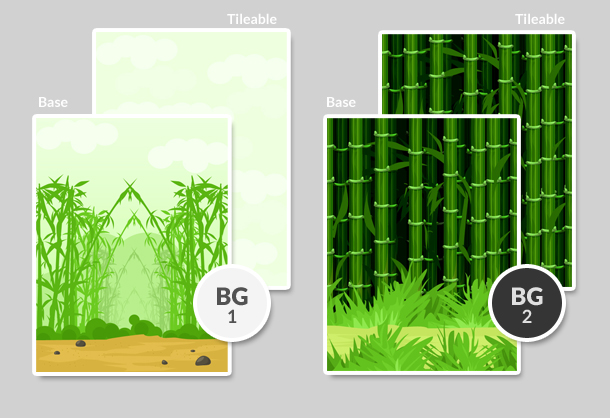 If you like my works than please share it. Thank you
Other Game Assets




Featured Files