BokehBee – Bokeh Rain Lens-Flare Generator
Extension panel for Adobe Photoshop® CS5, CS6, CC, CC-2014 and newer
Actions Set for Adobe Photoshop® CS3 +
BokehBee generates impressive Bokeh-, rain-, and lens flare effects with only one click and one panel! No extensive Photoshop knowledge is required – BokehBee does it for you. Have a look for yourself at the demo video!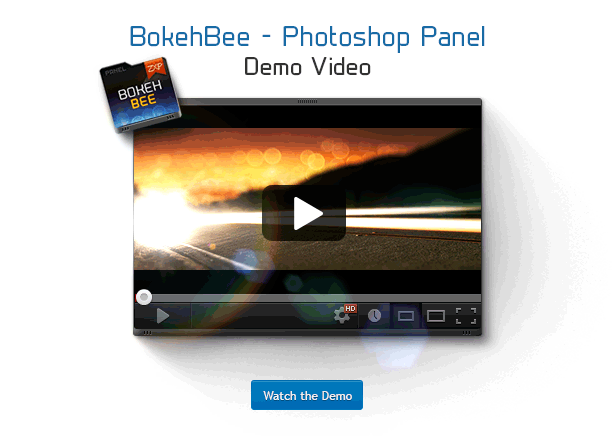 Try wich effect fits best to your picture. Combine it with rain styles and lens flares. Switch on and off one of the two Bokeh layers. Play with layer opacity. No result is like the other. Also have a look at the Screenshots!
Every document size works. The Bokeh size will be scaled suitable to the document size (panel only).
All effects are arranged as named layers. They can easily be edited afterwards. Your original pictures stays untouched of course!
Additionally enclosed in the package are all functions as an action set with 1 PSD (2000×2000 px), 4 high res lens flares and one brush set with 3 Bokeh brushes.
Features
3 Bokeh styles (round, hexagon, octagon)
2 Rain styles (diagonal, straight)
4 lens flares (highres, smart objects)
well-organized result
all layer editable
original pictures stays untouched
Package
Photoshop Panel for CS5, CS6, CC, CC-2014 and newer
Actions for CS3+
additional lens flares as PSD file
additional 3 Bokeh brushes as .ABR Brush set
Instruction PDF
Tutorial video for panel: Installation (link inside the PDF)
Tutorial videos for actions: How-To-Use and installation (link inside the PDF)
Panels and actions tested on PC / MAC with Photoshop CS5 / CS6 / CC / CC-2014 / CC-2015 / CC-2015.5 / CC-2017 / CC-2018
Example Pictures by liufuyu, Mark J. Sebastian