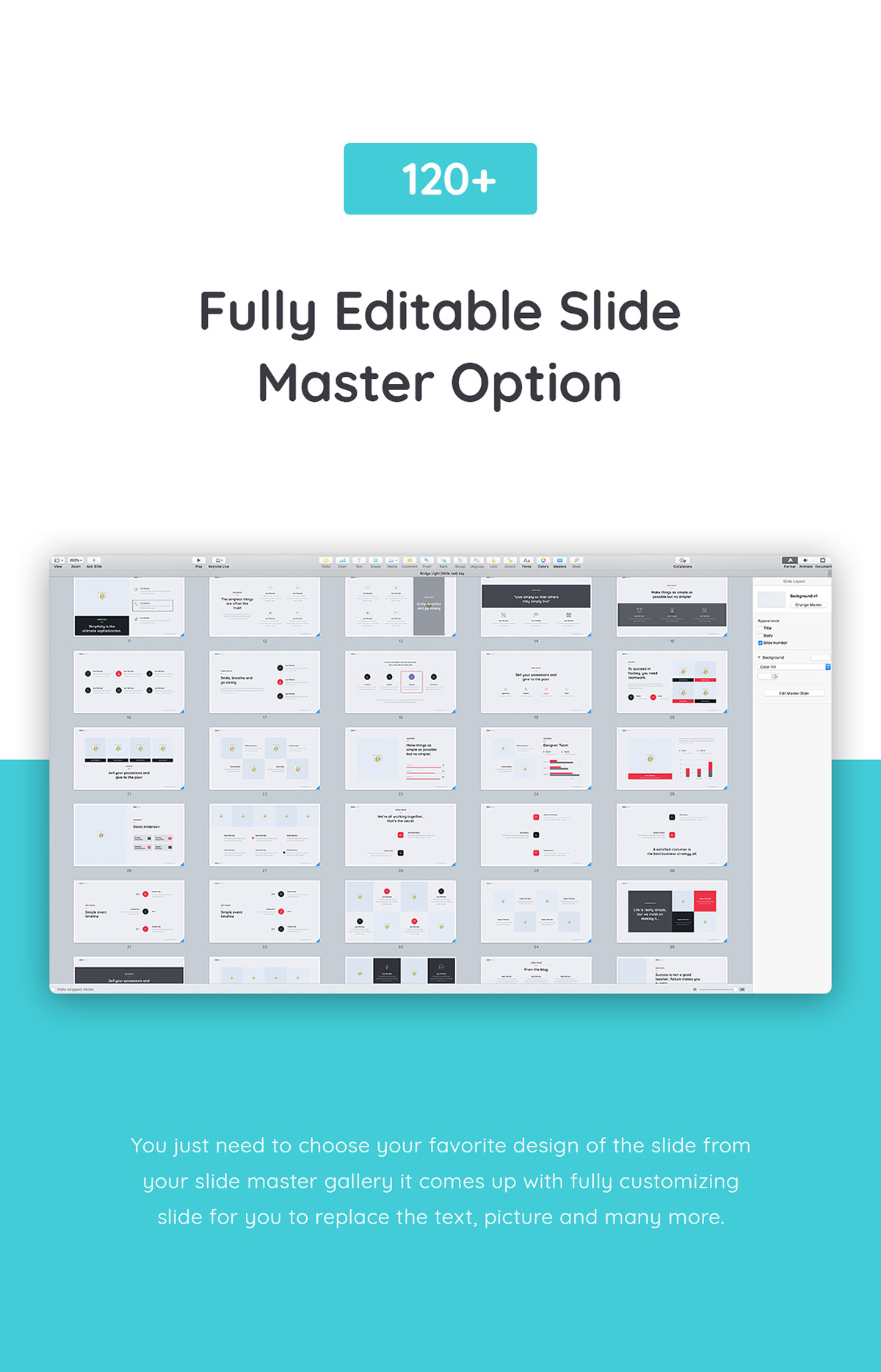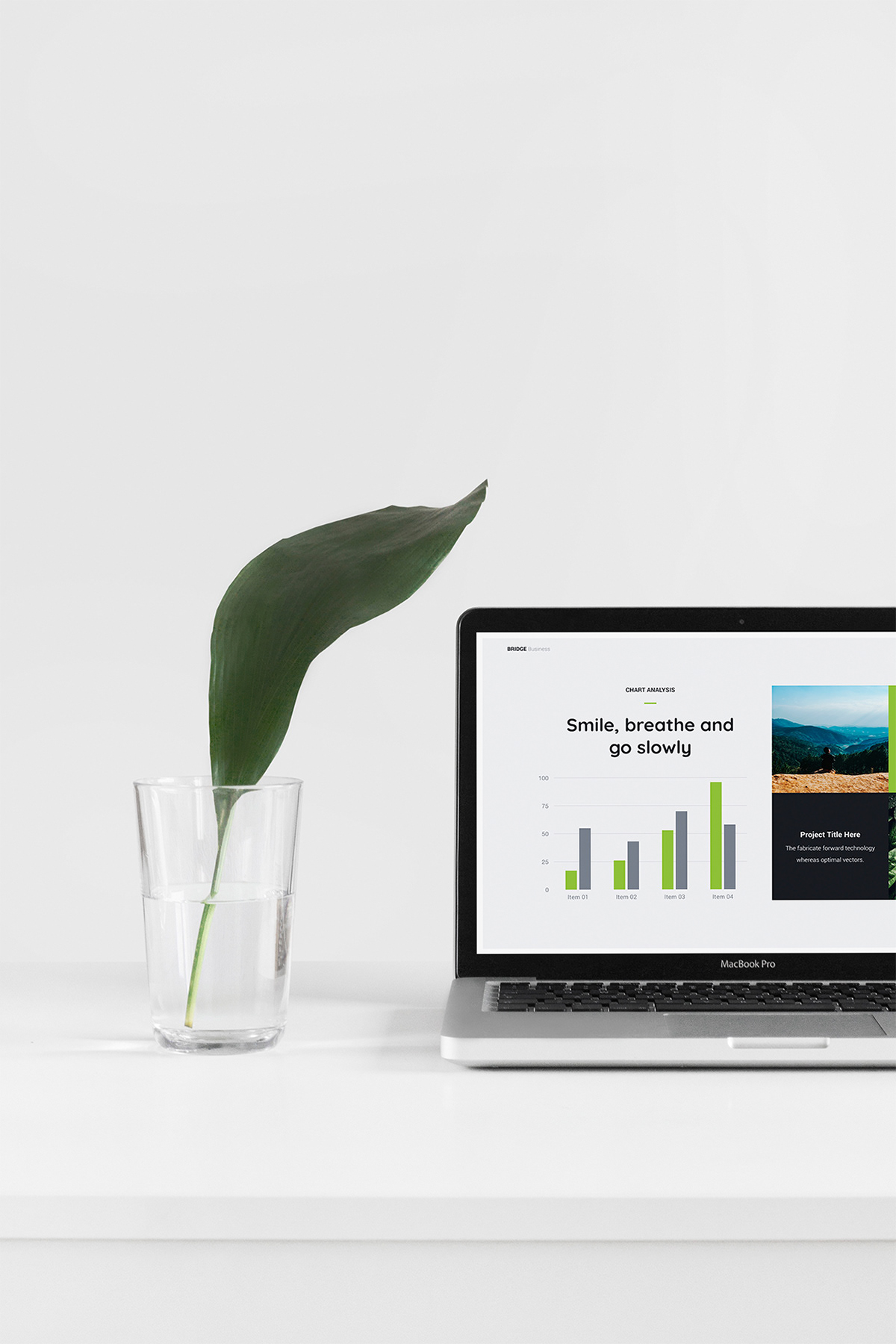 BRIDGE BUSINESS TEMPLATE:

BRIDGE is a multipurpose & business KEYNOTE template. Since the beginning of the creation of this template, we focused on the real use, good readability and meaningful suggestions of all slides. We have devoted time testing in KEYNOTE where we managed to tune many details. In cooperation with designers, we have prepared modern colors that are used in Web design and bring you trend insights. Great animation deliver dynamic and make your presentation interesting and unique.

Your slides will speak-up for your work!!!
If you were a manager, who wants to present the potential of a company, a lecturer who is eager to attract attention, or a student who wants to present a report –
don't hesitate, this product is developed just for you!
ESSENTIAL FEATURES:
Each Template is over 120+ slides
2 Aspect Ratio (16:9, 4:3 screen layout)
Vector Shape All Elements
Full Master Slide Options (Replace Image & One Click Demo Slide Import)
Minimal Font Icon Library (Easy Editable)
All Essential Functions (Infographic, Data Chart, Portfolio, Team Work, Price Table, TimeLine etc..,)
Full & Easy Editable
Documentation (PDF)
Available in Powerpoint version. Read More




SimpleSmart Presentation Templates:
The template contains the main purpose of delivering ideas of user with creative, modern designs and solutions to others. In other words, a template is a "product" which buyer directly use it as well as give an opportunity to express his or her ideas fluently without template author.
SimpleSmart has been making the presentation templates since 2010
If you've got a presentation coming up fast, you need to get an awesome and unique Presentation template designed quickly.
Your presentation needs slides that highlight your points, elements that visually engage with your audience, and a design that comes across with the right style. You need a style that's: on-trend, fits your brand, and is dripping with creative energy.
FEATURED TEMPLATES:
These templates will help you make awesome PowerPoint or Keynote presentations fast. Dive in and find the design that fits your presentation ideas best!
Please, Images are not included
Used images are not included in template pack, because Envato policy does not permit include creative common photos.
ABOUT SHIFT PRESENTATION BUILDER
"SHIFT" Minimal and Creative Presentation Builder
gives you opportunity to create all kind of presentation by using the modern and useful elements such as portfolio, typographic, services, icons, data charts, tables, infographics, mockups, world maps and more..
Builder Some Features:
Each Builder is over 300+ slides with many elements
Responsive 16:9 Screen (4:3 Coming soon)
Fully & Easy Editable
Unlimited Colors
Ready to Use 3 Demos (Business, Creative, Minimal Demo Templates)
Full Master Slide Options (Drag to Upload Images & Elements)
Minimal Font & Vector Icon Library v2.0
All Essential Functions (Infographic, Data Chart, Portfolio, Team Work, Price Table, TimeLine etc..,)
Creative & Professional Builder
User Guide & Video Tutorials
Divided in Categories such as:
Agenda & Schedule Slides
Welcome & About Slides
Simple & Creative Company Timeline Slides
Simple & Image, Icon Service Slides
Portfolio & Single Image Slides
Project & Analysis Image Slides
Creative & Professional Builder
Team Work & Team Member Slides
Device MockUp Slides
Data Table & Price Table Slides
Special & Creative Project Slides
Simple & Numeric Countdown Slides
SWOT Analysis Slides
Data Editable Chart & Analysis Slides
Creative Infographic Slides
Quotes & Testimonials Slides
Simple World Map Slides
Contact Slides