Business Bundle 2 in 1 Power Point Presentation
Description
This is the package of 2 Presentation Template which are Unique, Professional Powerpoint Template for Multipurpose,business, corporate, creative industry, Technology, Finance or personal use etc. All elements are editable, no need of another software to edit it except powerpoint, all presentation are fully animated. Easy to change colors, modify shapes, texts, charts.
Links for Detail of Each Presentation of the package
Check Demo Of Each Presentation inside Package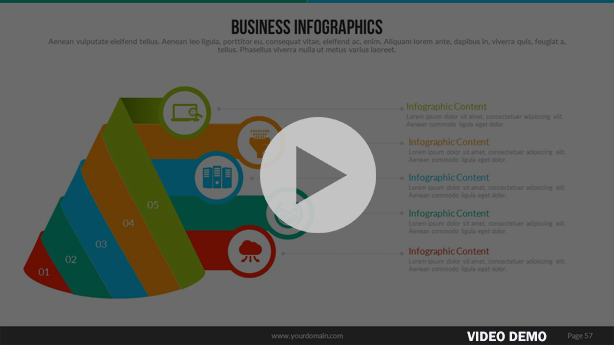 Invent Power Point Presentation
Description
Invent Point Presentation are available in 2 animation scheme.One is fully animated and second is random slide only animation. It has 110 unique slides. It is available in 4 Aspect ratio i.e. 16:9 HD, 16:10FHD, 4:3 & A4 Print. It has 40 color scheme in form of xml file. All slides are useful for business, corporate, meeting, personal, educational purpose. Detail of each slide is given in preview page of this presentation on graphicriver.Video Tutorial of replacing background images and installing and using theme color is given inside readme file.
FEATURES
Full HD with 4 Aspect Ratio (16:9, 16:10, 4:3, A4 Print)
Product Support via email(Reply Within 24 hrs)
40 Color Scheme(xml file given)
PPTx format
Two animation Scheme(Fully Animated+ Slide only animation)
Easily Editable slides
110 granted unique Slides
Power point theme & color variants supported
Handmade infographics(Vector based)
help file ! readme.txt and pdf include to guide you
Link of how to change images and install xml files is given inside readme file to guide you
Icon used from flaticons
Video Demo of presentation is given
2 company Timeline
1 monthly activity and 1 daily activity
9 slides about company
2 Price table
6 Team member slides
12 Portfolio Slides
6 Media Mockups Slides
7 Slides About Business Process
30 Slides Of Infographic
15 Slides of Excel/custom Data Charts
6 Maps of diffrent countries
1 contact page and many other slides etc.
40 Theme color files
Venture Power Point Presentation
Description
Venture Presentation Template is a professional, multipurpose & creative template. Its best use for business, corporate,personal and multipurpose also.All element easy to edit. All slides and vecters are fully editable. It has 80 files, 116 guaranteed unique slides,and 9280 total slides in aggregate. This template is avaliable in 4 aspect ratio i.e. 16:9 HD, 16:10FHD , 4:3 & A4 and have two animation scheme, one is fully animated and other is random slide only animation. This Template ia avaliable with 10 Pre made color schemes. This presentation are include business plan, financial plan, market strategy, maps, porfolio, price tables, excel chart, data charts,team, infographic etc.
FEATURES
Full HD with 4 Aspect Ratio (16:9, 16:10, 4:3, A4 Print)
Product Support via email(Reply Within 24 hrs)
10 Pre-made Color Scheme
PPTx format
Two animation Scheme(Fully Animated+ Slide only animation)
Easily Editable slides
80 PPTx Flies
116 unique Slides
Total 9280 Slides
Power point theme & color variants supported
Handmade infographics(Vector based)
help file ! readme.txt include to guide you
Icon used from flaticons
15 slides about company infomation
6 slides team representation
7 Portfolio Slides
6 Business Plan Slides
6 Financial Plan Slides
6 Different BusinessServices Slides
5 Price table Slides
6 Different Maps(USA, Macsico, UAE, Italy, World, Australia,America & Europe)
5 Laptop Infographics
5 Mobile Infographics
5 Pc Infographics
4 Social Media Infographics
20 Different useful Infographics
6 Data Charts
Thanks for buying my file, you can find more in my portfolio
Any confusion or query ? Contact me via my portfolio