"PRESENTATION IS WHAT PEOPLE ARE BUYING!"
PRESENT YOUR WORK WITH MORE THAN 500 DIFFERENT PREVIEW IMAGE TEMPLATES SUITABLE FOR ALL MARKETPLACES
Suitable for:

FULL SIZED EXAMPLES
FOR MORE EXAMPLES FOR OTHER MARKETPLACES CHECK OUT THE SCREENSHOTS!
CHECK OUT THE VIDEO TUTORIAL
(Watch in HD for Better Explanation)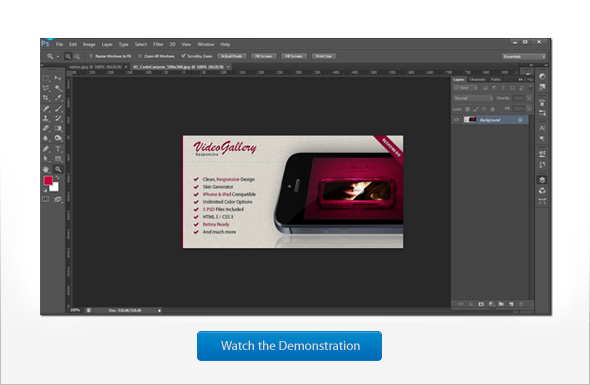 On one hand the file includes a 590px x 300px template for ThemeForest, CodeCanyon, Tutorials, ActiveDen, VideoHive and also for GraphicRiver and 3dOcean and on the other hand it also includes 2 template versions sized 590px x 2000px and 590px x 2500px for GraphicRiver and 3dOcean.
FEATURES
2 Header Designs
2 Title Versions (Handwritten, Typed)
Black and White Mockup Version
5 Light and 5 Dark Backgrounds
Editable via Smart Objects
8 Full-View & 8 Close-Up Mockups
3 Preview Image Sizes (590px x 300px, 590px x 2000px, 590px x 2000px)
Easy to Use
5 Very Ordered .PSD Files
PDF and Video Tutorial
TOTAL OF MORE THAN 500 POSSIBLE COMBINATIONS
MOCKUP SCREENSHOT RESOLUTIONS
Phone: 1136px x 640px and 640px x 1136px (landscape) – RETINA
Pad: 1024px x 768px and 768px x 1024px (landscape)
Mac: 1920px x 1080px
Laptop: 1440px x 900px
FONTS USED
Fonts Myriad Pro and Brush Script are included in Windows and Caesar is a free font.