Hop Hop Adventure Game Kit for your next game. A complete game kit, including background, character, and user interface. You can see the gameplay idea here :
Hopping Bird Game on CodeCanyon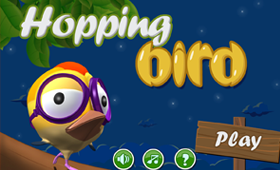 Font is not included, you can download it here Luckiest Guy on 1001fonts
If you have questions, suggestion, feedback or need any help, please leave comments here.
And if you don't mind, please do not forget to rate all your purchases, this helps authors and other buyers!
Thank you.