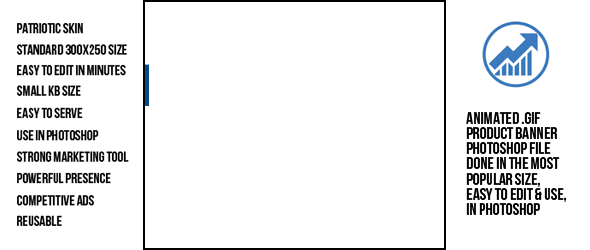 SEE THE VIDEO DEMO WALK-THROUGH OF THIS FILE HERE


Looping Animated .gif banner in a standard 300×250 size

Great for sale events, veteran's day, independence day, etc). Edit and export this animated .GIF product banner done in a 'U.S.A. theme' directly from Photoshop. Low file size, easy to serve by different ad providers, or by yourself. Just insert images and edit text.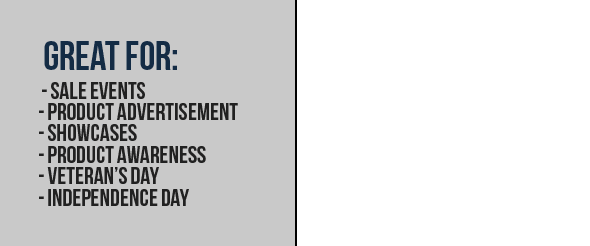 To insert/edit images: double click the red marked layer "image1" (or right click it and choose Edit Contents). It will open a small window with text "paste image 1 here". paste your image on top, delete my text and resize to fit. Save (tip: before saving add "filter / sharpen" effect to the image will be clear. Save and close, repeat with other 2 images. Then edit text (all the text layers are in yellow or orange). To edit any text line, also double-click it's layer (or right click / Edit Contents) and it will open that line of text only. Edit text, center it and save. repeat with other lines. 3 Bullet points are marked in orange. Edit them in the same way. Once you're done, export your .gif (file / save for web and pick '.gif', 128 colors, with looping set to 'forever'). Once you have the .gif saved, you can serve it on FB and other social media, your (or other) websites. Insert URL via WP plugins, or by a simple html code (with something like: )

Font used: Bebas Neue (free to download from http://www.dafont.com/bebas-neue.font)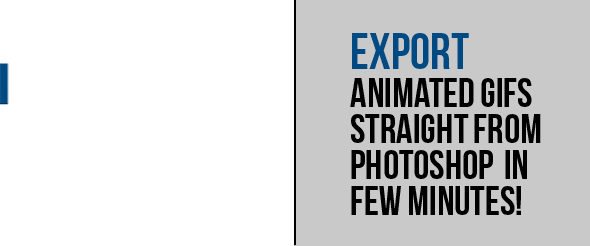 SEE THE VIDEO DEMO WALK-THROUGH OF THIS FILE HERE