Now you can easily create a modern, unique presentation for both professional and personal use with this fully customizable, high definition Keynote template. Impress customers, clients, associates and prospects with this friendly design featuring clear personable fonts and a fun hand made feel.
Great for eBooks, business decks and creative presentations, this template set is fully customizable and simple to use. Specifically tailored to present information about fresh ideas, social media, digital content and user statistics, this set of presentation deck layouts give you the tools you need to quickly create a great showcase for your ideas and information. Tell your meaningful, memorable story with the Magic Marker Keynote Template.
This kit includes:
2 versions using 1920×1080 px widescreen backgrounds of different paper textures
2 .key
2 .kth theme files
37 master screen designs
Over 70 extra .png icon graphics as separate files, including a map, lightbulb, people, shapes, lines, arrows, social media and mobile device graphics to mix-and match
Layered .PSD file with multiple background textures & colors
Pre-styled automatic charts for you to present your data
14 custom designed information charts and graphics on separate master screens
8 extra .png textures as separate files
Detailed user guide with helpful tips for creating compelling live presentations
Uses free fonts available online through links in the Help File
Click to watch the demo video: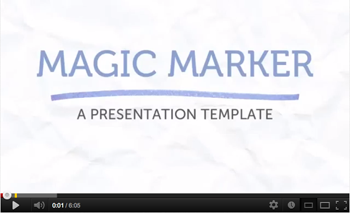 Thanks for rating this design!
SAVE MONEY TODAY!
The Magic Marker Presentation Template is also part of the Hand Made Collection:

Other great designs from 83MUNKIS: