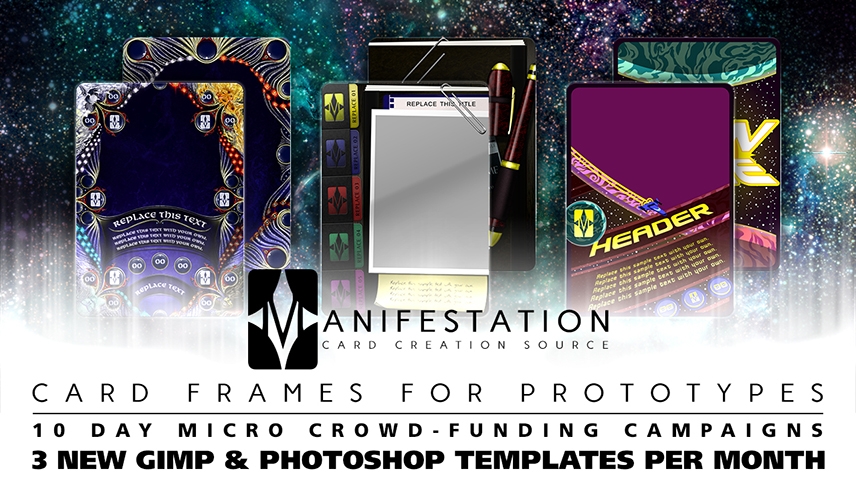 USE THIS CARD CREATION SOURCE TO DESIGN YOUR IDEAL CARD GAME; WHETHER IT BE FOR PRINT, WEB, OR VIDEO GAME USE. ARTWORK USED IN PROMOTION IMAGE AND SCREENSHOTS ARE NOT INCLUDED IN DOWNLOAD.
PREVIEW VIDEO
CLICK THE VIDEO LINK TO LEARN MORE!
CLICK HERE FOR A COLLECTION OF RECOMMENDED, HIGH-QUALITY ARTWORK FOR YOUR CARD PROJECT
MANIFESTATION CCS: GALLERY
CLICK THE IMAGE BELOW TO VISIT OUR DEVIANT ART GALLERY!
FONT DOWNLOADS:
STYLE 01 – Trench
OTHER RECOMMENDED FONTS AND DOWNLOADS PROVIDED IN THE INSTRUCTION MANUAL.
CONTENTS:
MAIN FOLDER -
1.) Manifestation CCS (Future Age – Series I) S01-CS3 – Info.txt
2.) S01-CS3 Instruction Manual.pdf
ICONS FOLDER -
3.) Icons.psd (Editable Photoshop shape layers)
4.) 30 Icons (.png format)
STYLE 01 FOLDER -
5.) Future Age – Style 01 (Front CS3).psd
6.) Future Age – Style 01 (Rear CS3).psd
7.) Text-Icon Styles.asl
8.) Actions.atn
CONTACT:
Contact us through our PROFILE PAGE.
(WE'RE OPEN TO ANY QUESTIONS, CONCERNS, COMMENTS, AND/OR INQUIRES. AND IF YOU'RE A CURIOUS-MINDED, PHILOSOPHER TYPE, YOUR IDEAS AND CONCEPTS WILL BE VERY WELL RECEIVED!)
"Remember… Keep us personal. Keep us word of mouth. Keep us Unknown…"
UNKNOWN DEPTHS