Promotion Limited Time!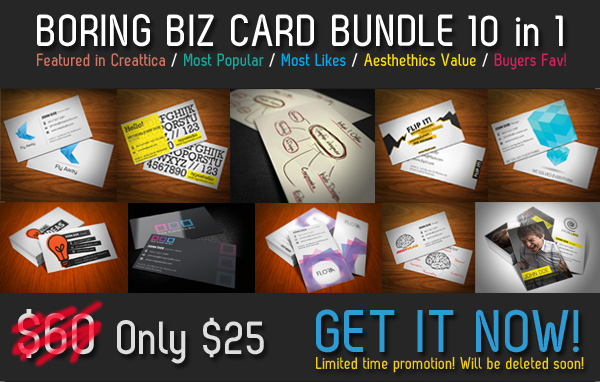 This time I'll introduce you the new business card design suitable for any agency, company and studio. Yes, also for personal use.
The idea is simple yet brilliant because I try to put something that will make your client or your company is easy to remember. Not because they need to queue 2 days or a week, but because you gave them superb service without wait too long or you are popular agency since 10,000 BC. Besides that, human evolution figure is one of the most popular image and this is the key to your success story.
Note: Human Evolution come with Cubism Style and it's not like other human evolution vector.
Features:
1.    Free awesome font used
2.    PSD Format 
3.    3.5 inches X 2.0 inches with bleed
4.    Print ready
5.    Fully Editable
6.    On/Off the Grid!
7.    Illustrator Format (Human Evolution) - Cubism style & Real
8.    2 Styles of business card
9.    and more.
Font Used: Please read your PDF file inside.
Presentation Templates
Awesome Bundles
Business Cards
Corporate Identity
Creative Resumes
Add-ons