Watch this video to know how to correctly use of Real Watercolor Photoshop Action 2.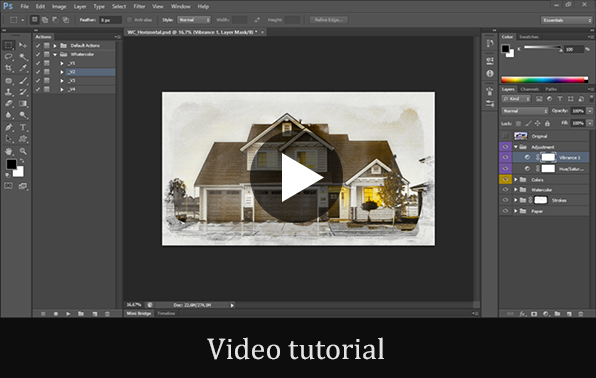 Transform your photographs into professional watercolor artworks with a few clicks. With 4 different action variations and 5 predefined gradient maps you can edit your photo at the end of the photoshop action to find the best possible final result.
To obtain correct results you must use the .PSD files that have been prepared for this action of photoshop. The initial .PSD have 2 canvases in high definition for maximum benefit, Horizontal (3750×3000 px) and Vertical (2109×3000 px) at 300 DPI resolution.
It is recommended to use this action in Photoshop versions from CS5 onwards.
You may also like:
RECOMMENDATIONS
This photoshop action ONLY WORKS WITH THE ENGLISH PHOTOSHOP VERSION. If you do not use an English version of Photoshop, you must change the language before you can use this action.
This photoshop action only works with the initial .PSD. If you have questions about how it works check the video tutorial before using it.
HELP?
If you have problems with this action or need help that the video tutorial can not solve, you can write me and I will respond as quickly as possible to help you.
SHARE WITH ME
Share with me the result you got. Tell me if you find something to improve in this action or in any project in my portfolio. And please, do not forget to rank.
Photoshop Actions






MockUps


Games Assets