Stationery / Branding Mock-Up V.1
Make high quality brand identity mock ups to your costumers. With this brand identity mock up, it is fast and easy to prepare your own compositions, in 3 different perspectives. 28 religiously planed and rendered 3D model will help you to make your own tailor made plan visualized. The easy to use design, and the attached help, makes it simple to work with, even for beginners. To save time you costumer's brand identity mockups, can be prepared and presented in seconds. With the use of the smart objects, it is enough to change the object in the top view, and the graphic will be modified automatically in every perspectives. To find the correct position of the graphics, the 3 grid layers will give you a helping hand in the PSD. The background of the grid layers are smart objects, so it is possible to change it according to the desired imaginations, the same way as it has been explained before. The top view's texture need to be changed, and the rest is done automatically by the mockup. The high resolution graphics, makes it possible to make separate designs about a single article or even a group of articles.. Every item can be moved freely or even made it hidden in all the 3 perspectives. The items, and the shadows are placed on separate layers, so the shadows can be made hidden, or the opacity can be changed to.
Watch this video, and make your life easier with this mockup!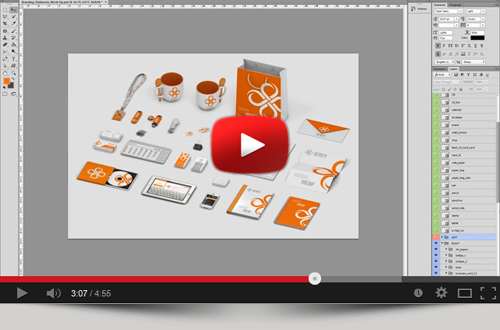 Features
The package contains 5 PSD files.
One huge file (6690×4260 px) which contains all the 3 views.
When you use Photoshop CS6 or CC, the required scratch disc size is 25-30 GB
When you use Photoshop CS5, requires scratch disk size: minimum 150 GB
Due to this size, the package contains another 4 PSD file. A 50% smaller PSD, which contains the 3 views too. And another 3 PSDs with the 3 views separately. The required scratch disc size is minimum 35-40GB (CS5)
Objects:
A4 papers
Badges (2)
Book
Business cards (4)
Calendar
CD
Document clip
Envelope
Eraser
Mobile phone
Mug (2)
Lanyard and ID Card
Note paper
Paper bag
Paper clip
Pen
Pencil
Pendrive (2)
Spiral note
Stamp
Tablet
Tri-fold A4
Please don't forget to rate if you like it!

OTHER ITEMS