The Modernists Collection of Keynote Templates
Showcase your unique style with The Modernists Collection of Keynote Templates, a robust bundle of design themes containing three popular styles of stunning and easily customizable presentation templates – Spotlight, Architectural & Fred – from 83MUNKIS.
Great for eBooks, business decks, slidedocs and creative presentations, these professionally designed Keynote templates are fully customizable and simple to use. Each set of designs comes with:
one-of-a-kind custom infographics
hand made background textures
tons of elegant master slides
complete theme and template files
and many other powerful tools to help you tell a compelling, memorable story.
Spotlight Keynote Template
Wow your audience with this stunningly creative and easily customizable Keynote template in three unique color systems – Graphite, Navy and Bronze. Prepare your show in a matter of minutes with this simple to use template kit that includes the following elements:

108 Master Slides in HD (1920×1080)
3 .key files
3 .kth files (theme files)
6 Pre-styled data charts
15 Custom made charts
Over 40 custom icons as separate .png files
Image / Video / Media placeholders
Users guide as .pdf with tips and tricks for effectively creating and delivering live presentations
Uses free fonts available online through links in the Help File


Just want Spotlight? Check it out here: http://graphicriver.net/item/spotlight-keynote-presentation-template/1785698?WT.ac=portfolio&WT.seg_1=portfolio&WT.z_author=83MUNKIS

Architectural KeynoteTemplate
I This kit includes:
60 master slides
3 .key and .kth files
A graph paper textured background
Many custom icons as separate .png files
5 different image presentation master pages
Pre-designed custom charts as master pages
Pre-styled automatic charts and lines
Placeholders for images and embedded video
Extensive getting started guide .pdf with useful tips for using the template in live presentations
Uses free fonts available online through links in the Help File

Just want Architectural? Check out the page here: http://graphicriver.net/item/architectural-keynote-template/1649700?WT.ac=portfolio&WT.seg_1=portfolio&WT.z_author=83MUNKIS

Fred Keynote Template
This kit includes:

3 versions in the colors Sand, Gray and Aqua
3 .key and .kth files
81 master pages
18 extra .png icon graphics as separate files
Pre-styled automatic charts for you to present your data
Pre-styled lines and shapes
11 custom designed information charts on separate master pages
Extra transparent .png files including a map, cogs, lightbulb, profiles, social media and mobile device graphics to mix-and match
Helpful user guide with tips for creating compelling live presentations
Uses free fonts available online through links in the Help File
Click to watch the demo video: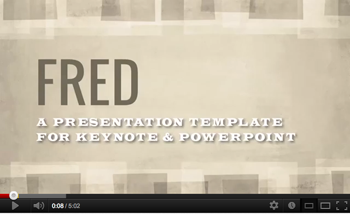 Thank you for taking time to rate this design!

Just want Fred? Check out the page here: http://graphicriver.net/item/fred-keynote-presentation-template/2427049?WT.ac=portfolio&WT.seg_1=portfolio&WT.z_author=83MUNKIS

Thank you for taking a moment to rate this design!

Check out some of the other template bundles from 83MUNKIS:




Discover more popular designs from 83MUNKIS: