The Lively Dungeon Set includes the following:
A dungeon tileset with tile variations and animated water (6 frames in the animation).
A sprite sheet with many objects to allow for a booby trap infested level, a treasure trove, a wizard's dream sanctuary, a prisoner's worst nightmare and general decor to allow for a cluttered or well kept dungeon.
A sprite sheet for items. This sheet includes potions (blue, red, green and purple), two keys and a little gold coin.
There are two versions of each file, a .PNG without any transparency and a .PNG with transparency.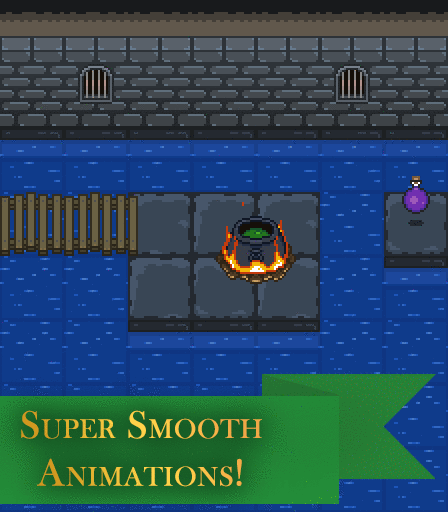 With the object sprite sheet I've made sure to include variations wherever possible, either colour variations (blue, red, green & purple), variation in style or both. I've also made sure to include all kinds of devices to allow for some creative obstacles. The devices include: Tripwire, bear trap, animated retracting spikes (4 frames), lever, pressure plate, and an animated barred gate (6 frames).
Along with all that, there are plenty of objects to make sure your dungeon doesn't feel empty, meaningless or lifeless. Make sure to check out the image previews to see what comes with the set.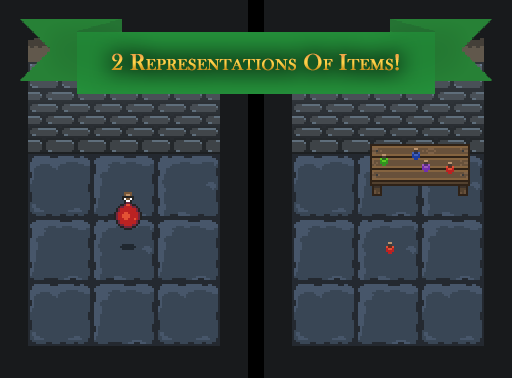 The item sprite sheet is just in case anyone wanted to make the loot more obvious, but the items are also included in the object sprite sheet as items you'd place on say a table or on the floor or something like that.
I hope you like what you see! I'm planning on doing a good few more sets in the same style for different types of levels and furnishings.
Please feel free to email me if you have any questions, I'm happy to answer any questions you have or anything like that. I should reply within 24 hours.