Click on the animated image below to see the VIDEO DEMO: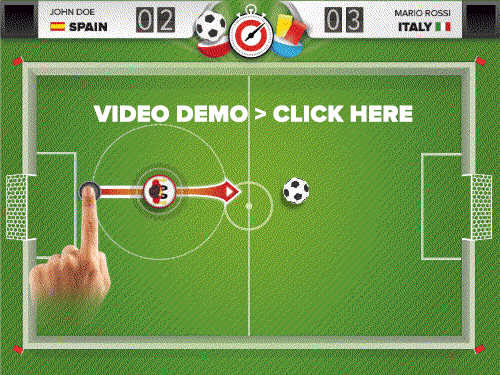 "Touch Soccer" is a complete, ready to use, football game graphical user interface, and it's created for a guaranteed fun, easy to control, really addicting game or advergame for mobile Soccer maniacs. "Touch Soccer" game asset comes with all the elements you need and could be used both to develop a brand focused advergame for a Facebook fans competition, and even to create an intuitive mobile multiplayer Soccer Game for challenging friends and players around the world, anywhere anytime.
This Game Gui, Sprites and Graphical elements are designed for a mobile-touch interaction, but this asset could be easily suitable for a desktop application too.
Everything in this package is made with vectors, so you can scale everything as much as you need.
It's very easy to customize players, colors, shapes and everything you need to edit.
DON'T WAIT ANY LONGER! Start scoring goals with TOUCH SOCCER!

And don't forget to rate it…please please please!
PS: If you purchase this item and you need more elements for your next soccer revolution, don't hesitate to contact me, I'm available for freelance projects. Thank you very much.