Pixel Turn Based Combat RPG Game Kit
A pixel game kit for all you turn based RPG game-developers. 15 characters and 21 effects and the beautiful backgrounds will help you create a great game.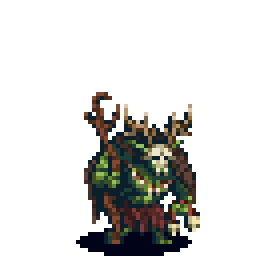 What's Included
Characters – 15 different characters, from humans, orcs to some evil necromancer
Animations: Idle, hit & Get hit
Backgrounds – Graveyard and Plains.
Effects – 21 Effects from explosions to small hit effects.
Example Map – Get started quickly
HUD – Some HUD that might help you. Get more GUI with the Super Game User Interface.
The one pixel line seen on the previews is not a part of the spritesheet and should be added with the help of some code in-game if needed. Also the pixel art font seen on the preview is not included instead do a quick google and download the font you want. Remember to check the license
Game developers
We love to see what all talented people can create with this. So all game developers out there, we hope this will help you a lot and do not forget to send us a message about your awesome game that you created. Don't forget to follow us here on GraphicRiver | GoblinPortal.
Stop reading and go create some awesome games.