Check Out Our Exclusive Items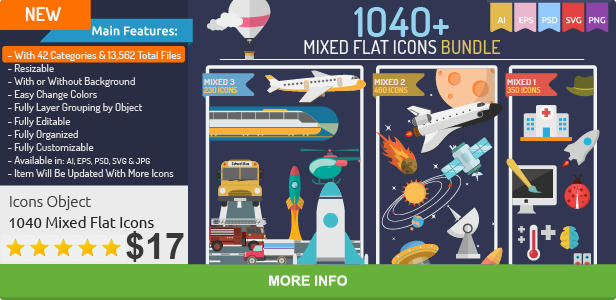 Universal Concept Flat Design
Universal Concept Flat Icons is set of great flat icons design illustration concepts for business, finance, marketing, internet marketing and e-commerce, promo, web, and much more. The set can be used for several purposes like: websites, print templates, presentation templates, promotional materials, infographics, web and mobile phone services, app and etc.
Features:
Free Updates
Color RGB
Curva Editable
Easy Scalable
Resizable
With or Without Background
Easy Change Colors
Fully Editable
Fully Organized
Fully Customizable
Fully Organized with Grouping by Object
Available in: AI, EPS, PSD, SVG, PDF, PNG & JPG
Item Will Be Updated With More Icons
Categories List:
1.) 20 Design & Development
2.) 21 Holiday & Recreations
3.) 30 Education & Science
4.) 30 People Business
5.) 30 Building & Construction
6.) 30 Business & Marketing
7.) 30 Marketing & Management
8.) 26 Medical & Healthy
9.) 23 Web & Development
License information:
If you want to know about "
Regular License
" and "
Extended License
" ,
Check this out
.
Feedback:
If you like this icons please don't forget to rate, help us to make
Better Items
Rate Here
.
Also Graphiqa-Stock really giving you a giant smile on your feedback. thanks!
Online Support:
If you need any help or support feel free to contact us via e-mail
graphiqa.stock@gmail.com
Total View item & Profile Page | Thanks for your Visit