THE VANTAGE COLLECTION of 11 Hot Keynote templates.
Each set of easy to use presentation Keynote templates comes with one-of-a-kind custom info-graphics, hand made textures, elegant master slides, complete theme and template files and other powerful tools to help you tell a compelling, memorable story. This refreshing bundle of easy to customize design themes is perfect for your next business presentation, eBook layout, slidedoc or creative deck.
RUBICON
This easy to use, professional Keynote presentation template is includes 13 master slides set for HD 1920×1080. With a textured and edgy design and three distinct color ways, your presentation is sure to be modern, unique and memorable.
Preparing your own, customized presentation is a breeze with well labeled multiple layout options for images, text and video as well as pre-styled data charts, graphic shapes and lines.
Features:

13 Master Slides in HD (1920×1080)
3 Color Systems – Gray/Gold, Navy/Aqua & Wheat/Paprika
3 .key files (Office 97-2004 & 2011)
3 .kth files
3 distinct background texture files as .jpg
Placeholders for text, images and media (video etc)
Pre-styled charts for many kinds of data
Line & Shape graphics that you can cut and paste into your pages
Getting started guide as .pdf
Helpful tips for using this design to create compelling live presentations
Uses 2 free fonts:
Zerox – http://www.ffonts.net/Zerox.font
League Gothic – http://www.fontsquirrel.com/fonts/League-Gothic
Just want Rubicon for Keynote? Get your personal copy here.
TIMBER
Rugged wood and weathered paper textures will bring your content to life in this easily editable Keynote presentation template. The 46 hand designed master slides have been specifically created to present information about social media, digital content and user statistics with rich personality and a textured style.
Features:
135 master slides
3 .key & .kth files
3 original photographic backgrounds
46 unique screen designs
Over 110 custom icons as separate .png files
12 photo gallery master slides
21 Custom graphic charts as master pages
6 Pre-styled automatic data charts
Placeholders for images and embedded video
Extensive getting started guide
Uses these free fonts:
Bevan – http://www.fontsquirrel.com/fonts/bevan
League Gothic – http://www.fontsquirrel.com/fonts/League-Gothic
Calibri – a system font that comes with the Microsoft Office Suite

Watch the demo video: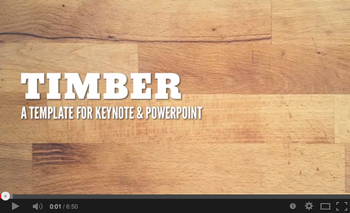 Just want Timber for Keynote? Get it here.
DEEP FOCUS
Seductively transparent with a flat, modern effect, the Deep Focus Keynote Template is a new take on the latest trend in interface design for mobile devices. Specifically created to present information about fresh ideas, social media, digital content and user statistics, this fully customizable set of four Keynote deck layouts give you the tools you need to quickly create a great showcase for your ideas and information in no time.

With this highly customizable kit you can create your own custom background texture using the included PSD layered file, insert your favorite icons from the selection of over 300 free font-based styles and define your own color themes. Or, you can simply insert your text, images and data into the existing design and in just minutes you'll be ready to knock the socks off your audience with your professionally designed presentation.
Features:
180 master slides
4 .key & .kth files
4 original photographic backgrounds
46 unique screen designs
Over 110 custom icons as separate .png files
6 different image presentation master pages
22 Custom graphic charts as master pages
Pre-styled automatic charts
Placeholders for images and embedded video
Layered .PSD file for creating your own custom backgrounds
Extensive getting started guide
Uses these free fonts:
Quicksand Book & Light Regular- http://www.fontsquirrel.com/fonts/quicksand


Just want Deep Focus for Keynote? Get your templates right here.

Thank you for rating this design!

Discover some of the other popular presentation collections from 83MUNKIS: